Better-than-New Engines Available Today!
The BEST Remanufactured Engines
Don't settle for a generic, new engine that might be only "good enough."
Often, rebuilt engines are really just products that have had some new parts installed. They still may retain a number of used components, and they've had little (if any) machining done.
For the same price, treat yourself and your vehicle or boat to a higher-quality, remanufactured engine, built to better-than-new OE specifications.
You'll get better-than-new quality for a great price.
Why Buy Remanufactured?
Professional installers choose remanufactured engines 4 to 1 over the next engine replacement option!
Remanufactured engines are a smart investment that give you the most performance for your dollar.
Reman components meet or exceed OE quality. Furthermore, Gearhead's years of experience provides experience in design improvements over new engines.
All Gearhead engines go through a stringent nine-step remanufacturing process, including "hot-run" testing.
You can count on successful installation.  After all, we replace all parts with new or remanufactured components.
Get Started in Just a Few Steps!
1.
Find a new reman engine for your car, truck, or SUV.
3.
Order the new reman engine that's right for your needs.
4.
Drive away confident and smiling!
Isn't it Time to GO with Gearhead Engines and More!
Remanufactured engines are not the same as "rebuilt ."
Gearhead engines are remanufactured to pass or exceed the same specs that new engines do.
We exceed expectations. 
We're here to provide you with personalized assistance at each step, from ordering to installation.
Enjoy fast and nationwide shipping and no-hassle returns.
We deliver to the lower 48 states for free and have a cost-effective delivery network for orders that go worldwide.
Breathe easy with the best warranty in the industry.
Our engines come backed by the best warranty in the industry with no fault options.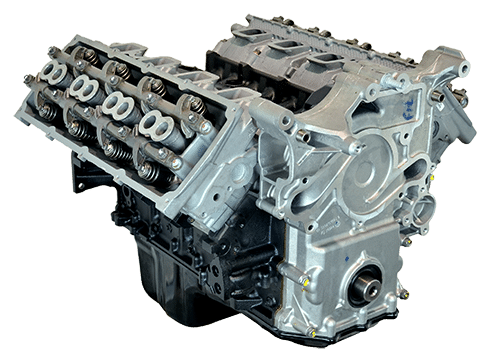 More Reasons to Buy Gearhead Engines
The More in Gearhead Engines and More
While our largest product line is still our top-quality remanufactured gasoline engines, Gearhead Engines offers a wide range of marine engines, diesel engines, turbochargers, and short blocks.
In addition to offering a complete line of top-quality engines, Gearhead Engines also serves up a full line of crate engines for nearly all domestic and import cars. We have crate engines for VW, Nissan, Chrysler, Ford, Mitsubishi, and many more.
Already decided on the Gearhead engine to put in your car, truck, boat, or SUV? We've got you covered with both manual and automatic transmissions, cylinder heads, and front and rear axle assemblies.
Trusted Warranties and Installation
Gearhead remanufactured engines come with nationwide, fully-transferable, 3-year, unlimited mile warranties — diesel remanufactured engines carry 1-year and 2-year warranties.
Our no-fault protection add-ons guarantee your investment with  additional value.
And we offer a Premium Engine Install Kit to ensure all of the parts connecting with your engine are new and warrantied for 12 months. After all, you're about to install a new, precision-machined Gearhead Engine. The best thing you can do is make sure your engine's supporting parts are fresh and ready-to-go.
Save with Gearhead Engines and More

If your answer to any of these questions is YES,
then it's time to GO with Gearhead!